West Sussex Council payoffs to officers 'outrageous'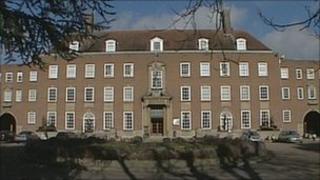 Councillors in West Sussex have condemned £1.5m paid in redundancy and compensation to five senior officers.
The payments by the county council include £397,232 to former chief executive Mark Hammond, who left last year after a period of extended leave.
"From a public perspective they are outrageous," said Liberal Democrat opposition deputy leader James Walsh.
The council said the payments were one-offs which would save senior management costs of £900,000 every year.
Mr Hammond's payments included £232,408 in salary, fees and allowances and £140,000 in compensation for loss of employment.
The total remuneration included pension contributions.
Mr Hammond joined the Equality and Human Rights Commission earlier this month as chief executive with a £130,000 salary.
The commission said he was appointed after an open and competitive recruitment process.
Two other senior West Sussex officers received redundancy packages of over £300,000, while one received £298,500 and another £150,894.
The Conservative-led county council announced in February it would axe up to 1,300 jobs as part of a bid to save £79m by 2014.
Dr Walsh said the public faced cuts in adult social care services, libraries, buses and young people's services.
"The public are being asked to take service cuts and then see these huge payments being made," he said.
"They wonder what the council is doing with its priorities.
"It is fundamentally wrong that people can walk from one of these jobs to another highly paid job in the public sector."
The county council said in a statement: "These posts were removed from the organisation as part of an exercise to reduce senior management headcount.
"The figures reflect the seniority and length of public service of the officers taking redundancy.
"Mr Hammond received his contractual six months' salary in lieu of notice together with a payment of compensation for the contract's termination."