Thousands of pirates gather in Penzance to break record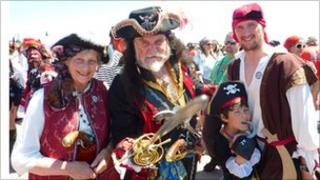 The record for the most number of 'pirates' in one place has unofficially been broken by thousands of people gathered in Penzance, Cornwall.
A total of 8,734 people in fancy dress assembled on Penance promenade on Sunday at 1300.
They smashed the previous world record set by 6,166 pirates in Hastings in 2010.
The pirate gathering was part of the Golowan Festival which celebrates the traditional feast of St John.
In pictures: Pirates in Penzance
Organiser Andy Hazelhurst said: "We had all sorts of standards of costume from Johnny Depp look-a-likes to little kids with stripy t-shirts.
"We even had dogs dressed up, although they didn't get counted."
He said it was fitting that Penzance, made famous by Gilbert and Sullivan's comic opera The Pirates of Penzance, should hold the pirate record: "If you say Penzance what do you think of?
"The rest are just upstarts.
"Hastings complained that they were not famous for anything else but we pointed out that they did have the Battle of Hastings."
The organisers in Penzance said they have gathered evidence of the number of people who took part in the record attempt to send to the Guinness Book of Records organisation in the hope of getting official recognition.