Legal threat over Bognor Regis Butlins bug outbreak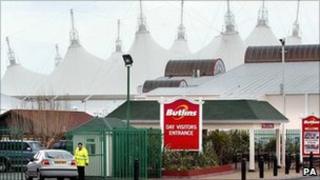 Holidaymakers struck down by a highly contagious stomach bug at a Butlins holiday camp in West Sussex have begun legal action to gain compensation.
About 200 people fell ill after a norovirus outbreak at the camp in Bognor Regis on 11 June.
The camp had been at almost full capacity with 5,000 guests and 1,200 staff on site.
Irwin Mitchell solicitors said it was representing a rising number of people, with 23 people coming forward so far.
'Crawl to bathroom'
Among those affected was Kathleen Gilmovitch, 43, from Ellesmere Port in Merseyside, who fell ill three days into a week-long break with her family.
She said: "The cramps were so bad that I would literally fall out of bed and crawl to the bathroom because I could not physically walk.
"I felt so unwell that I haven't been able to eat much. I've never felt pain like it."
A spokesman for Butlins said: "We have a robust and well-practised procedure for dealing with any health risk to our guests."
He said the "speedy reaction" of staff had received the approval of health officials from Arun District Council and the Health Protection Agency.