Receptionist warning over abuse doctor Antony Collis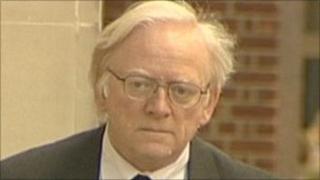 The former receptionist of a Sussex GP who was jailed for abusing young girls at his surgery has told how she became suspicious of his behaviour.
Margaret Pooley worked for Dr Antony Collis in Wadhurst for 25 years.
She reported the family doctor in 2003 after an incident came to light when a seven-year-old girl pleaded not to see Collis in his surgery.
Ms Pooley reported the incident to another doctor and within a week the GP, from Stonegate, was suspended.
'Hands all over her'
She said she had already become suspicious after Collis kept calling back young female patients for no apparent reason, then the girl approached her directly.
"Her mother just came and sat down and the child came up to me and said 'please Margaret tell me it's not Dr Collis, don't make me go and see Dr Collis'.
"The mother said 'the last time we came his hands were all over her', so then I told them not to take the child up to see him."
She added: "I always worked to protect our surgery and keep a good name and a happy surgery and then for that to happen."
Ms Pooley worked at the practice for 40 years, and for 25 years she worked alongside Collis. She retired three years ago.
Police apology
She said she'd had a good working relationship with the GP.
"We got on really well and we had a laugh together and worked really well together and never had a cross word with each other, and that is why all this makes me so sad."
Collis was told to leave the surgery in 2003. A year later, police investigated but decided there was insufficient evidence to prosecute him.
The doctor was struck off the medical register in 2007, and charged in 2008 after Sussex Police reopened the investigation.
On Friday at the Old Bailey, Collis, 59, was jailed for eight years and six months after being convicted of carrying out indecent assaults on girls at his surgery.
He was given a further four months for possessing indecent images of children.
After the sentencing, Sussex Police apologised for failings in its initial investigation into Collis.
Collis had assaulted the girls during examinations behind a curtain while their mothers waited on the other side.
The offences were committed over a 10-year period until 2003.