New Amex stadium holds old memories for WWII veteran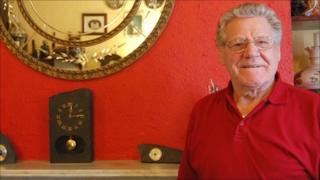 With their team promoted to the Championship in the season just finished, fans of Brighton and Hove Albion hope the club's new stadium will be part of a bright future for the team.
But for a World War II soldier from Hove, the fields where the multi-million pound Amex Stadium has just been built hold strong memories of the past.
Bill Trewin, 87, was eight years old when he used to run errands for soldiers camped in the fields in Falmer, just outside Brighton.
Twelve years later he was stationed on the site of the stadium, due to be the Albion's new home when the 2011-12 season starts in August, when he was defending troops preparing for D-Day from German aircraft.
'Exciting but scary'
Mr Trewin, who is a Brighton fan, says he hopes to watch a match at the new stadium during its debut season.
He was called up to serve on an anti-aircraft battery aged 18 in 1942.
For two years he was stationed across England, mainly in London, but in May 1944 he was told to travel south.
And when he arrived at Falmer he was ordered to set up his gun exactly where the football stadium is now.
"We had to guard Canadian troops who were camping in nearby Stanmer Park," he said.
"We were told about D-Day the day before, it was exciting, but scary - we knew what was at stake.
"Four o'clock in the morning we heard an almighty rumble and all these allied planes came flying over, droves of them."
V-1 flying bomb
After defending the troops, Mr Trewin was due to journey across the channel with his unit, but a new threat emerged.
The V-1 flying bomb, otherwise known as the Doodlebug, was an early cruise missile.
Mr Trewin's battery was assigned the task of shooting them down before they reached London.
"They weren't all that fast, but the noise was terrible," he said. "But the worst thing was as soon as the engine cut out, the bomb would drop out of the air."
Speaking about when, as a child, he used to go to Falmer to watch troops arrive for an annual camp, he said: "They used to come every year with their bands.
"I was about seven or eight years old and I used to go up and talk to the soldiers, who then got me running errands for them like buying fags.
"You wouldn't be able to do that nowadays."