Hastings Pier architects looking overseas for ideas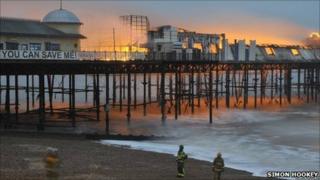 Architects working on plans to restore Hastings Pier after it was devastated by fire last year are looking overseas for inspiration.
Ray Chapman, chairman of Hastings Pier and White Rock Trust, said architects were not only looking at other UK piers but also piers in Japan and Holland.
He said not many UK piers made money so the team was looking further afield for ideas.
The trust has had £357,400 lottery cash for development, but needs £8.75m.
Mr Chapman's comments were made as further public consultation took place in the East Sussex town this weekend at the St Mary in the Castle arts centre, following the initial lottery grant.
Tourist destination
He said the architects, deRijke Marsh Morgan (dRMM), had already come up with some "exciting and sensational" ideas.
"I think what they have done very well indeed is not just look at piers in the UK, they've looked at what is successful overseas, in places like Japan and Holland."
He said the team was looking to see how piers had been taken forward in Europe and across the world.
"[With] piers in the UK, not many of them make money sadly.
"We've got to look at something that the community want and the tourists also want, to make Hastings a really strong tourist destination and deliver that cost-effectively and obviously make it sustainable," he added.
Mr Chapman also said legal work was currently under way to push through a compulsory purchase order, so ownership of the pier would first transfer to Hastings Council and then the trust early next year.
The blaze on Hastings Pier, in the early hours of 5 October, took four days to put out and destroyed 95% of the upper part of the structure.