Town criers compete in Arundel tournament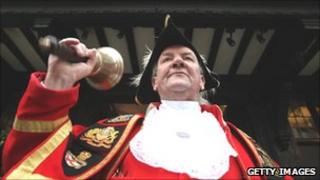 Town criers are parading through a West Sussex town in a national tournament to test their skills.
Arundel's town crier Angela Standing said more than 30 of the UK's most celebrated and decorated town criers would be taking part.
On Saturday morning, each town crier was crying about their home town. For the afternoon contest, they were crying about past Dukes of Norfolk.
Ms Standing said the standard of crying would be very high.
She said: "We have personally invited the UK's most talented town criers where each will be scored in five different categories including volume and clarity of cry, diction and inflection as well as their regalia."
The competition was being run under the ancient and honourable Guild of Town Criers rules, she added.