St Anne's school Lewes sit-in talks offer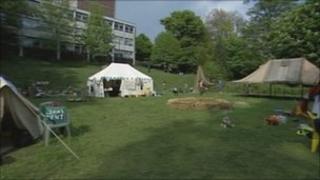 Protesters occupying the disused St Anne's school in Lewes have been promised talks on the future use of the site within seven days of them leaving.
The group, which calls itself St Anne's Diggers (Stand), has occupied the site since 1 May, defying an eviction order.
It wants to prevent the school being sold for housing and claims the occupation enjoys local support.
East Sussex County Council said it would talk about possible community use of the land if the campaigners leave.
Sean Nolan, the director of corporate resources at the Tory-run council, said he gave his "personal assurance" to protesters.
'More than patient'
He said: "I must stress this can only begin once the protesters have left and I urge them to end their occupation of the site as soon as possible.
"I genuinely cannot see how this continued occupation is helping the local community."
Mr Nolan said the council was already looking at suggestions for potential use of part of the site such as allotments or a park.
He added: "We have been more than patient and the court agreed and ordered the protesters to leave last Wednesday."
Stand was unavailable for comment.