100 Lives: Jewish grandmother recalls escape from Nazis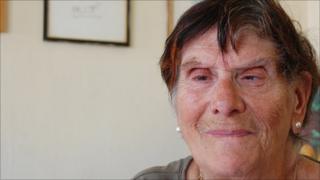 "I turned and saw a little man with greasy brown hair and a small moustache - he was wearing a swastika and people were shouting 'Heil Hitler'."
Margaret Mendelsohn was six years old when she saw Adolf Hitler being driven down a busy street in Berlin.
She remembers her parents going pale and a family friend muttering, "this man is going to be trouble for us".
The encounter still chills her now, because Margaret is Jewish.
"The first two years my life was idyllic and my family were well off," she said
But events rapidly changed for a young Margaret as the Nazi hold over German society tightened, culminating in her family fleeing to England in 1938.
'Juden Verboten'
Margaret, who has lived in Hove for 50 years, said: "People who talked to us yesterday crossed the road not to speak to us. And children who I played with the day before ignored me.
"I remember playing outside with my doll in a buggy and suddenly I was surrounded by Hitler Youth.
"They took my doll and one of them threw it over my head. The doll landed heavily and the head, which was made of china, smashed."
The next morning Margaret's mother took the headless body of the doll to a toyshop to be fixed, defying the sign on the shop which said, "Juden Verboten" (Jews forbidden).
Sensing the trouble for Germany's Jews ahead, Margaret's father travelled to England in May 1938 and arranged for his wife and daughter to follow him.
Kristallnacht
But this was not instant, and Margaret and her mother had to survive Kristallnacht, also referred as the Night of Broken Glass, when Jewish homes and buildings were attacked across Germany in November that year.
She said: "We lived near a synagogue and during Kristallnacht I heard smashing and shouting outside. I was very scared.
"In the morning when the footsteps died away we opened our windows and looked outside.
"It was devastation - all the torahs were lying on the floor with excreta on them."
Eventually Margaret's father received permission for the family to follow him in December, but they had to leave Margaret's grandmother who died three months later.
She remembers her final journey out of Berlin when a Gestapo man threw her mother's passport and visa on the floor of the train station.
She said: "Another man, who wasn't Jewish, came over to my mother picked up the papers before helping her on to the train.
"He whispered, 'what is our country coming to'."
Margaret is writing a book called, Through the Eyes of a Child, which recalls her experiences in Nazi Germany.