Slow worms see travellers off Woollards Field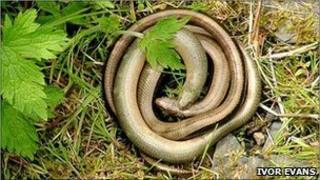 Travellers in 25 caravans are to be evicted from Woollards Field in Falmer so work to move slow worms and lizards off a construction site can proceed.
Brighton council made the decision at an emergency meeting.
Councillor Pete West said the reptiles could only be moved in spring, which was why the action was being taken now.
He said the city lacked traveller sites but that would be addressed. The Gypsy Council said Brighton council had put the interests of animals above people.
'Human rights issue'
Joseph Jones, from the Gypsy Council secretariat, said there was a lack of sites across the South East, with more than a thousand pitches needed.
He said: "The idea of slow worms taking priority over people - it is amazing really to think animals take priority over people.
"But gypsies and travellers are the lowest on anyone's welfare agenda. They have the lowest health and education outcomes and have the most problems in achieving standards of human rights."
Brighton and Hove City Council is run by a minority Green administration - the party's first major British authority.
Mr Jones said: "The Green Party has shown themselves to be the same as the rest of them. Why vote Green when you get the same load of rubbish? It's either people first or it's not."
He said the travellers should have been offered an alternative site before they were evicted and added: "This eviction is probably the first of many they will experience."
'Regrettable action'
Mr West, cabinet environment spokesman, said Woollards Field had been earmarked for The Keep, which will be a home for the archives and historical resources of Brighton and Hove, East Sussex, and collections at the University of Sussex.
He said the project could cost the local authority up to £100,000 a month if delayed.
The travellers were illegally camped at Woollards Field, which was a site of special scientific interest and a habitat for reptiles and slow worms, Mr West added.
He said: "It is regrettable that we have to evict this group of travellers, but it has not so far been possible to persuade them to move.
"We are taking this action now because of the work going on to move wildlife and because of the importance of The Keep project.
"The wildlife can only be moved in the spring during the breeding season and it is essential that the development of The Keep goes ahead as planned with the wildlife protected.
"The underlying problem is the shortage of traveller sites in the city, which is something we will urgently seek to address."
Planning documents said populations of slow worm and common lizard had been identified within the development area and were associated with a chalk grassland embankment on the northern edge of the site.
Development work will see the chalk grassland reptile habitat protected, but some of the wildlife will be moved.