Fake Fawlty Towers show hits Brighton Festival Fringe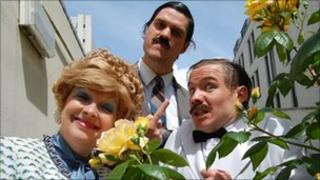 A troop of actors have been entertaining diners during the Brighton Festival Fringe by improvising characters from Fawlty Towers.
The show, Faulty Towers the Dining Experience, is being held at a Brighton hotel.
It includes three Australian actors impersonating Basil Fawlty, his wife Sybil and Spanish waiter Manuel, while serving a three course meal.
The show has become one of the surprise hits of this year's Fringe.
The 1970s TV comedy starred John Cleese as the troubled owner of a Torquay hotel.
Only 12 episodes were filmed and according to Karen Hamilton, who plays Sybil in the Brighton show, it was as popular in Australia as in the UK.
"We grew up with Fawlty, it doesn't date," she said.
"Doing our show is so much fun, we have to be able to improvise the characters we love and make the scripted parts seem like we've never done them before."
'Second nature'
Jordan Edmeades, who plays Basil, said the actors meticulously researched their roles, giving them the chance to launch into famous scenes from the show, for example, when his character lambastes a group of German guests.
"I make a big point of watching the episodes constantly so when things come, like someone being German, we can reference to the original," he said.
"We've done this show so many times the characters become second nature."
David Sweetman, who plays Manuel, said: "We get totally different shows every night. We have routines where we can guide people to certain gags, but sometimes we get these absolute improvisational gems."
The show is being held at the Thistle Hotel and is running until the end of May.