East Sussex maternity services 'unsustainable'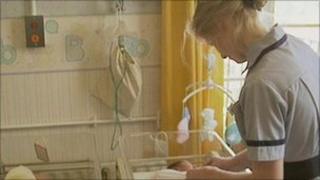 NHS bosses have warned of potential "risks to safety" unless changes are made to the way maternity services in East Sussex are delivered.
East Sussex Healthcare NHS Trust has ordered a review into maternity services claiming the current model is not sustainable.
The trust said the review would provide recommendations on how to deliver "safe, sustainable services".
Chief executive Darren Grayson said the decision had not been taken lightly.
He said: "We continue to experience challenges in providing maternity services in the current model.
"We are clear that without some degree of change the service will not be sustainable and that unacceptable risks to safety may materialise and we cannot allow this to happen."
'Open-minded'
NHS bosses announced in December 2007 that they wanted to upgrade the maternity unit at Conquest Hospital, Hastings, leaving Eastbourne District General with midwife-led care only.
But they were forced into a U-turn last year by the Independent Reconfiguration Panel (IRP).
Mr Grayson said: "Undertaking a review is not something that the trust does lightly and we are aware of the previous history in relation to these services."
The four-month review will be carried out by Marie Grant, the deputy chief executive at St George's Hospital in south-west London.
Mr Grayson said the trust was "open-minded" about how services could be run in the future.
"But it is clear we cannot carry on as we are in the long term," he added.