Sussex force set to make 75 police officers retire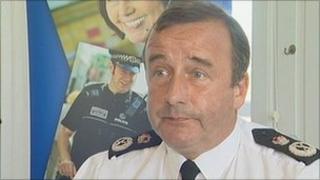 Seventy-five Sussex police officers with 30 years service could be forced to retire this year as the force seeks to save £52m by 2015.
Chief Constable Martin Richards said it was a "very reluctant decision forced by the money debate".
He said police stations in Hove and Eastbourne and a building in Worthing had also been earmarked for closure.
The Sussex Police Authority will make a decision on the Chief Constable's recommendations on 26 May.
About 200 police officers could be forced into retirement over the next four years under regulation A19 of the Police Pensions Regulations 1987.
It states that police officers can be "required to retire" if their retention would "not be in the general interests of efficiency".
Mr Richards said: "I know many of the 75 people who will have reached 30 years service by the end of this financial year, and therefore it will be a very, very reluctant decision, but unfortunately we are being forced really in many ways by the money debate.
"We've built up plans accordingly. We haven't yet had to ask the police authority to give us the authority itself to use A19. We will be doing in a couple of weeks time."
'Grinding bureaucracy'
About 300 police staff have already left the organisation since last November through a voluntary redundancy scheme.
The Chief Constable said the planned closure of three police stations followed research that showed "footfall was plummeting".
"People actually want high quality telephone services, access to police officers by appointment, visibility of police officers and police community support officers on the streets," he said.
Earlier, the government announced plans to charge suspects by post, rather than asking them to attend police stations, to cut "grinding" police bureaucracy.
Home Secretary Theresa May said the move was part of plans for England and Wales which could save up to 2.5 million police hours each year.