West Sussex adult social care fight goes to county hall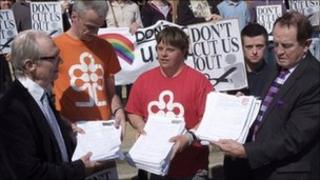 Opponents of changes to adult social care in West Sussex are taking their fight to county hall after presenting a 20,000-name petition.
Don't Cut Us Out campaigners are angry at the county council's decision to stop providing care to adults with "moderate" needs.
More than 2,000 are expected to protest outside the meeting on 13 May.
It comes as a BBC survey suggests adult social care funding in West Sussex is being cut by nearly 6%.
The Council Spending: Making it Clear survey suggests the authority's budget will drop from £212m in 2010/11 to an estimated £199m in 2011/12.
'Confronting councillors'
The council said its decision to restrict care to adults with "moderate" needs would put more focus on those with critical needs.
It said the change would bring it in line with nearly 80% of English authorities who only provide for substantial and critical needs, it added.
Campaigners have said the change affects 4,500 people in the county.
They are seeking a judicial review into what they call a "badly managed and legally flawed" consultation on the raising of the eligibility threshold, which came into effect on 1 April.
Don't Cut Us Out spokesman Barry Pickthall said: "We've forced a debate, a 30 minute debate at the beginning of the council meeting.
"We will be confronting councillors with disability face-to-face."
'Save money'
He said if the council withdrew the "moderate" needs care a lot of people would deteriorate and then need "substantial or critical care".
Mr Pickthall added: "It's not actually going to save money. They need to invest in the future."
The council has said those who no longer meet the new criteria, which are set by the government, will be supported to find alternatives.
Re-assessments of all those receiving help have already started and will take about six months.
The authority estimates the changes will save £6.5m by 2013. About £750,000 of this will be reinvested in the voluntary sector and schemes like Health and Wellbeing Hubs, which will be in place by September, providing a database for alternative community services.
A spokesman said: "All areas are having to make savings. The council has to save £79m over the next three years, and of that £31m will be from adult social services, which represents about 17% of its budget.
"Adult social services spend is 39% of the council's non-schools budget - about £195m."
Campaigners will be able to present their argument to councillors, but the meeting does not have the power to overturn the council's decision.