Thousands of Brighton fans cheer on champions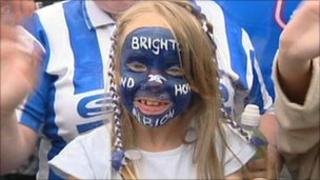 Thousands of fans have lined the streets of the Brighton to celebrate the Seagulls' promotion.
Up to 12,000 people cheered on the Brighton and Hove Albion players as they paraded through the city with the League One trophy.
An open top bus decked in the club's colours made its way along the seafront from Hove Lawns to Madeira Drive.
Earlier the players were treated to a civic reception at Brighton and Hove City Council.
Manager Gus Poyet said: "I would like to thank all supporters on behalf of the team and club for all their tremendous support throughout the season.
"We will be working hard through the break to prepare for the Championship next season."
New stadium
Chief executive of Brighton and Hove City Council, John Barradell, said: "With the new Amex Stadium and promotion, 2011 will surely go down as one of the greatest years in the Albion's history."
The Seagulls, who have spent 12 years at the Withdean Stadium, will move into the purpose-built ground at the Falmer next season.
They played their last game at the athletics ground on 30 April.
Brighton and Hove Albion had been without a permanent home since selling the Goldstone Ground to pay off debts. The Goldstone Ground closed in 1997 and is now the site of a retail park.
An initial planning application for a 22,500-seater stadium on land north of Village Way, in Falmer, was submitted to Brighton and Hove City Council in 2001.
It was accepted by the government in July 2007 after a High Court challenge and two public inquiries.