Liberal Democrats lose Lewes to Conservatives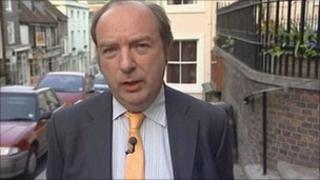 The Liberal Democrats have lost control of Lewes District Council to the Conservative Party.
The East Sussex town, which the Lib Dems had held since 1991, is the constituency of the party's transport minister Norman Baker.
The Tories now hold 22 of the council's 41 seats and the Lib Dems have 18.
The Conservatives gained four seats to take control of the council from their coalition government partners, while the Lib Dems lost three.
An Independent councillor also lost a seat, leaving the group with one council member.
'Disappointing result'
Liberal Democrat leader Nick Clegg has said the Lib Dems are being "blamed" for coalition spending cuts.
After the count, Mr Baker said the result was "obviously disappointing".
He said: "We did go into the election with a majority of just one seat, so it's hardly surprising, given the national backdrop, that we haven't held on to it.
"But we did only in fact lose three seats, so the council remains pretty marginal. I think against the backdrop of the national picture we did very well here."
He said the reality across the South East, including the Lewes constituency, was that there was an "irreducible Conservative vote".
The MP said: "This was Conservative territory for over a hundred years before I took the seat and the reality is we've only been able to beat the Conservatives because those of a progressive nature, including Labour and Green voters, supported us.
"The consequence of voting Labour and Green in Lib Dem/Tory marginal wards is to result in Tory councils, and that's what unfortunately we got today."