Brighton activist to challenge police database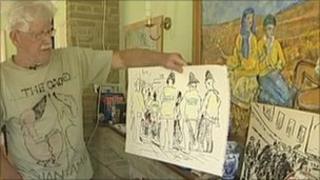 An 86-year-old artist from Brighton is taking the police to the High Court to try to get records of his political activities removed from their database.
John Catt, who has taken part in demonstrations for decades, has been given leave to challenge the National Public Order Intelligence Unit (NPOIU).
Although his activities have been extensively documented by police, he has no criminal record.
NPOIU said it would be inappropriate to comment on the ongoing legal process.
Mr Catt was present at a May Day protest in Brighton on Saturday at which five other people were arrested but he said he sat on the pavement and sketched the demonstration.
Four people were later charged with various offences.
Other campaigns he supports include the long-running protest against Brighton arms manufacturer EDO MBM Technology.
He said police files contained "masses of triviality" about him.
"They put down what t-shirt I am wearing and whether I have had a shave or a haircut," he said.
"It is incriminating people by association. That's got to go."
Mr Catt's solicitors Fisher Meredith hopes the case will be heard in the High Court by the end of this year.
Legal analyst Joshua Rozenberg said if he won, it would be a landmark case.
"If Mr Catt were to establish that the police couldn't keep information on people - even if they had what they would say was a reasonable suspicion about those people - it would make the job of the police more difficult," he said.
Mr Catt said it was "terrific" to be granted permission to sue the police.
"It is not about me it is about all of us who they have got data on - hundreds of thousands of people," he said.
"I am really fighting for all of us."