Brighton and Hove Albion fans see last Withdean match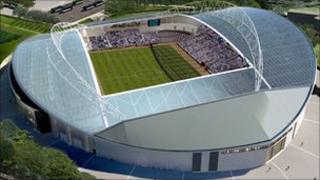 Thousands of fans have watched Brighton and Hove Albion play their final game at the Withdean Stadium.
The Seagulls have spent 12 years at the athletics ground and will move into the American Express Community Stadium at Falmer next season.
They were beaten 3-2 by Huddersfield Town but still lifted the League One trophy at the end of the match.
Albion fan and broadcaster Des Lynam said Withdean had its place in the club's history.
He said: "It's served a purpose because without it the club might well have disappeared."
'Good atmosphere'
Sussex Police said an 8,300-strong crowd attended the match.
Insp Andy Kundert said: "The atmosphere was really good throughout and, together with the club with whom we have worked closely at Withdean for 12 years now, we thank the fans of both sides for their co-operation."
He added: "We are already working with the club to help ensure that in the new era at the Amex Community Stadium everyone will be as safe and secure as they have been at Withdean."
Brighton and Hove Albion had been without a permanent home since selling the Goldstone Ground to pay off club debts. The Goldstone Ground closed in 1997 and is now the site of a retail park.
An initial planning application for a 22,500-seater stadium on land north of Village Way, in Falmer, was submitted to Brighton and Hove City Council in 2001.
It was accepted by the government in July 2007 after a High Court challenge and two public inquiries.