Eight arrests during Brighton protest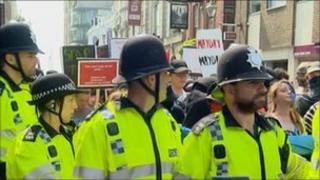 Eight people were arrested in total during a May Day protest in Brighton, Sussex Police have said.
Police released arrest figures after the protest by anti-capitalists under the banner Brighton Mayday collective ended on Saturday evening.
An estimated 200 protesters took part and about 200 officers were deployed including mounted officers from Thames Valley Police, the force said.
Before the event organisers were asked to come forward and speak to police.
Ch Supt Graham Bartlett said: "We don't want to have the numbers of police officers in Brighton that we've got out there today. We've got better things for them to be doing policing their neighbourhoods in parts of Sussex.
"But because of the history of some of these protests and the lack of information we have to have these numbers there."
Temporary containment
Two people were arrested for failing to remove face masks and two for assault, obstructing and resisting a police officer.
Two men were arrested for using abusive language, and one was arrested for failing to surrender his alcohol.
One man was arrested for violent disorder following a march in London last month.
In a news release, the organisers said the event brought together local groups including Brighton Anarchist Black Cross, Smash EDO, Squatter Networks of Brighton and Brighton Hunt Saboteurs.
It said May Day was a time to "stand up for workers' rights and resist oppression".
Police said a group marched towards Brighton Town Hall before coming to a standstill at the junction of Ship Street and Duke Street.
A containment was put in place temporarily while officers carried out searches and made some arrests, officers said.