Badger rescued from Sussex pool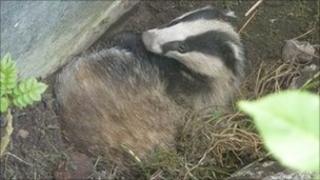 A badger had to be rescued after falling into an empty swimming pool in East Sussex.
The animal was discovered in the disused pool at a farm in Hailsham on Wednesday.
Rescuers put a piece of wood down to the badger to enable it to climb out but on Thursday morning it was still there.
Rescuers from East Sussex Wildlife Rescue & Ambulance Service used a net and dog grasper to capture the animal.
The badger was scared and confused but uninjured. It spent the day at the rescue centre and was later released at the farm.
Rescue co-ordinator Trevor Weeks said: "Badgers are never easy to catch at the best of times and this location was not easy - especially the nettles."