Man walks 60 miles in suit of armour to royal wedding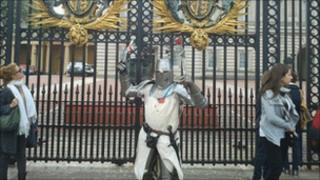 A Sussex man has succeeded in his challenge to walk from Worthing to London in a suit of armour in time for the royal wedding.
Colin Bickers agreed to make the 60-mile (97km) journey in the five-stone (32kg) suit for a bet at a local pub.
He left on Saturday - St George's Day - and said wearing armour had not been easy in the unseasonal hot weather.
He raised over £3,000 for the charities Help for Heroes and the Chestnut Tree House Children's Hospice, near Arundel.
Speaking to the BBC's Fearne Cotton outside Buckingham Palace earlier, he said: "I have immense pain in my feet, lots and lots of blisters.
"But it was worth it for the money that we have raised for charity."
'Really exciting'
The 38-year-old, who has been dressing up as a knight on St George's Day for several years, took six days to complete his journey, arriving outside Buckingham Palace at 1430 BST on Thursday.
He said: "It's been absolutely fantastic all the way up... lots and lots of cars have been tooting their horns and shouting encouragement.
"It's been really exciting - almost enough to overcome the pain in my feet."
Mr Bickers said his original intention had been to drop a red rose, taken all the way from the Rose and Crown pub in Worthing, in front of the royal carriage.
However, he said the security barriers would make that impossible, so he would just "throw it as far as I possibly can".