Sussex police officers forced to retire to cut costs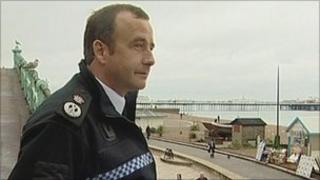 Sussex Police has said it is seeking approval to make some officers with more than 30 years service retire in a bid to cut costs.
Chief Constable Martin Richards said the force was looking to make savings of £52m by 2015.
He said he had made the decision "with great reluctance and after much careful consideration".
The savings measure has already been backed by other police authorities across the country.
Under regulation A19 of the Police Pensions Regulations 1987, police officers can be "required to retire" if their retention would "not be in the general interests of efficiency".
'Difficult decisions'
Mr Richards said he would seek approval for the measure at a meeting of Sussex Police Authority next month.
He said he recognised it would "not be welcome news for many officers" but said he had to take difficult decisions.
Sussex Police said it needed to reduce police officer posts by 500 and staff posts by 550 by 2015.
About 300 police staff have left the organisation since last November through a voluntary redundancy scheme.
Mr Richards said though the force had frozen recruitment, the levels of natural turnover had slowed down and were threatening the force's ability to make sufficient savings.