Sussex Police plea to Brighton protest organisers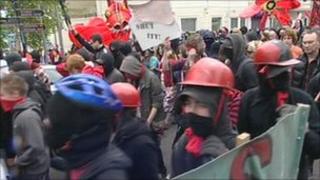 Detectives have warned of potential disruption ahead of a planned May Day protest in Brighton at the weekend.
Hundreds of people are expected to join the "Plans to Party and Protest by the Sea" event on Saturday being advertised on social networking sites.
Sussex Police has called on the organisers of the protest to come forward and speak to them.
A similar anti-war protest in the city two years ago led to a series of clashes between police and protesters.
Ch Supt Graham Bartlett said without contact with the protesters, policing the event would be harder and there would be increased disruption to the public.
He said: "We welcome people coming to the city to express their views but we are urging those involved to contact us about their intentions.
"We want to facilitate the right of all those involved to protest peacefully along with with the rights of those trying to go about their lawful business."