Community power plans for Harveys brewery near Lewes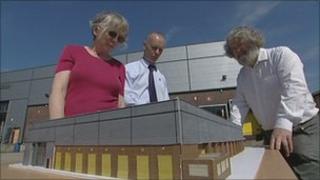 A group of East Sussex residents hope to set up what they believe is the first community-owned power station.
The Ouse Valley Energy Services Company (Ovesco) has agreed to install solar panels on Harveys brewery warehouse.
The electricity will be used to run the Lewes brewery, with any surplus being sold back to the grid. Additional revenue will fund community projects.
Ovesco needs to raise about £300,000 to install the panels by selling shares to investors of between £500 and £20,000.
It has raised more than £166,000 so far.
The company says the panels will generate enough electricity to save more than 40 tonnes of carbon dioxide a year.
'Highly reliable income'
Investors hope the scheme will be up and running by August, generating 98,000 kilowatt hours of electricity every year.
The not-for-profit company said its long-term aim was to to make the Ouse valley self-sufficient in energy by 2030.
In a statement, Ovesco said it hoped to reduce the area's dependence on imported energy and develop renewable alternatives.
It read: "The project has been calculated to produce a highly reliable income stream from which interest can be paid to investors in addition to community benefits."
Ovesco estimates that shareholders will make a return on their investment within 25 years.