Thakeham mushroom farm homes get extended debate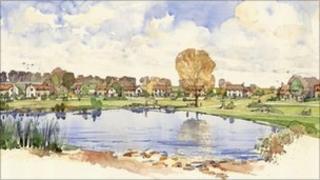 Plans to build 146 homes at a mushroom farm in West Sussex are to be discussed at an extended council meeting because of the level of public interest.
The housing scheme, which includes a new village hall, community workshops and sports pitches, is proposed for the Chesswood site in Thakeham.
Sussex Mushrooms, which has operated the site since 2006, said the homes would secure more than 480 farm jobs.
Horsham council has received 187 objections and 218 letters in favour.
But it said the majority of the letters of support were from people living outside the district.
If approved on Tuesday, the homes would be built on derelict land following the demolition of disused mushroom growing sheds.
Exceptional circumstances
A large proportion of the site, which has been used for mushroom farming since the 1930s, would be restored to agriculture, the council said.
The application would normally be refused permission on planning grounds.
But a key issue for councillors will be whether the are exceptional circumstances to justify allowing the homes.
Council officers have recommended that the plans for the 167 acre site be approved.
They will be discussed on Tuesday from 1100 BST at the council offices in a debate expected to last two hours.
The rest of the development control committee's business will follow at 1330 BST.