Soldier's Bible found on WWI battlefield returned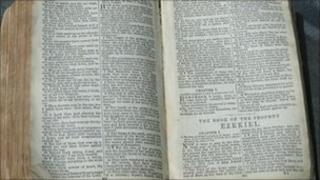 A Bible found on a battlefield during World War I has been returned to the family of its former owner.
British soldier Herbert Hodgson found the book when he was fighting in Flanders, Belgium, in 1918. He kept it until he died in 1974.
Mr Hodgson's sons Bernard and David, from Crawley in West Sussex, traced the soldier from the service number written across the top of some of the pages.
They found the Bible belonged to New Zealander Richard Cook.
'Great interest'
Pte Cook, 26, died of a gunshot wound in 1917.
David, 81, travelled to New Zealand to return the book to the soldier's great-nephew Major Alister McColl. It has since been donated to a museum.
Bernard Hodgson said: "We got so used to the fact that dad had an old Bible in his tin trunk. It was kept out of sight but not deliberately so, it just wasn't used.
"It wasn't until he died that we became more conscious of it because it was given to us.
"It became part of my property and I started taking a great interest in it.
"It's now in the National Army Museum in New Zealand. Myself and my brothers are so pleased about that."