Steyning Museum is new home to Gert and Daisy artefacts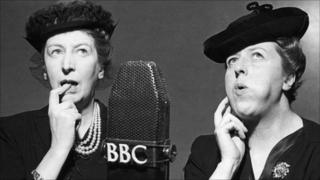 They were two of the highest paid comedians of their day and topped the bills of the major variety theatres.
But Elsie and Doris Waters and their Cockney charwomen act "Gert and Daisy" have slipped from the public consciousness.
However, a recent discovery of hundreds of artefacts has brought the pair's long career back into focus.
And now a major exhibition of their lives has opened at Steyning Museum showcasing their importance.
Born into a middle class family in Peckham, London, at the turn of the century, the pair moved to Steyning, in West Sussex, before World War II and remained there for the rest of their lives.
The sisters' act, although now dated, was extremely popular, consisting of the pair talking in "patter" about the useless men in their lives and singing songs.
It was also laced with innuendo and misunderstanding.
According to Chris Tod, who is the curator at the museum, at the height of their popularity between the 1930s and 1950s they were "as big as Morecambe and Wise".
'Legacy of warmth'
During World War II they were the first act to be flown to Burma to entertain the troops.
Their wartime efforts were seen as so important that they were given special passes by the War Office and the US military for safe passage.
The exhibition originated after the sisters' nephew Eddie Waters died.
The museum was contacted in August 2010 by the executor of his estate offering the museum hundreds of scripts, sheet music and songs performed by the pair.
This treasure trove, added to the museum's already large collection of photographs, records and outfits used by the pair.
Andrew Woodfield, a museum volunteer who has had a life-long interest in theatre, said: "Going through the records I'm bowled over by the amount of work they did -modern performers have got it easy compared.
"When you mention Elsie and Doris Waters to older folk there's an immediate smile - they've left a legacy of warmth."
The pair never married and according to Mr Tod this was a result of their workaholic lifestyles.
"They felt like they had a responsibility to their audience - they were in demand and two of the highest paid artists of their day," he said.
Their popularity declined in the 1960s and in 1978 Doris died, followed by her sister Elsie in 1990.
The exhibition runs until September.