Brighton man jailed for life for burnt body murder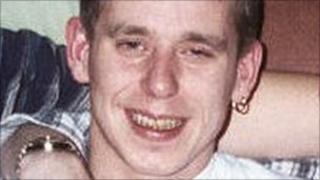 A man has been jailed for life for the murder of a 36-year-old drug user whose burnt body was found on a golf course on the outskirts of Brighton.
Sean Iran, 21, of St Richard's Road, Portslade, Brighton, who denied the charge at Lewes Crown Court, was told he would serve at least 19 years.
Stefan Welch suffered brain trauma before his body was moved to Dyke Golf Club and set alight on 4 September.
His charred remains were found by a golfer between the 17th and 18th holes.
Det Ch Insp Trevor Bowles, of Sussex Police, said: "When his body was discovered the following morning, it was not possible even to determine its gender.
"Stefan was vulnerable, defenceless and completely without malice. Sean Iran took his life in a pre-planned way and without care.
"He has shown not the first crumb of remorse."
During the trial, jurors heard that Mr Welch, a heroin addict, probably died in less than an hour.
The court heard that the day before he died he spoke to his probation officer about his drug debts and said he had been threatened.
But Iran told jurors he and Mr Welch had been close friends and he had been trying to help him kick his heroin habit.
It was also claimed that Iran and his two co-defendants - his father, Babak Iran, 44, and brother Navid Iran, 23, also of St Richard's Road, Portslade - tried to eliminate evidence of the crime.
All three had denied perverting the course of justice but were found guilty.
Sean Iran received a seven-year jail term to run concurrently with the life sentence.
Babak Iran and Navid Iran were jailed for seven years and six years respectively.
'Betrayed trust'
Following the verdict Mr Welch's brother, Tim Welch, said: "Today's verdict removes three men from society, one of whom's actions led to Stefan's horrific death.
"Stef was not a violent or malicious man and did nothing to deserve this fate.
"Sean Iran took advantage of this friendship and betrayed Stef's trust in the worst possible way."
The court heard that Malcolm McNeil found Mr Welch's charred remains as he went to retrieve his ball from the bushes during a round of golf.
Mr McNeil, a former teacher, told the court he was shocked when he later found out who the man was, as he had taught Mr Welch when he was aged nine or 10.
Philip Katz QC, prosecuting, said Mr Welch was killed at the house in St Richard's Road and then his body was moved to the golf course and set alight.
The court heard Sean Iran met Mr Welch while on remand for a charge of robbery and causing actual bodily harm to a 15-year-old boy. He was later jailed for two years.
Sean Iran told jurors Mr Welch was his "guardian angel" because he rescued him from being attacked in Lewes Prison and said he had nothing to do with his death.
When he gave evidence he admitted smoking £20 to £30 worth of cannabis a day to ease symptoms of paranoid schizophrenia, depression and anxiety and having serious drugs debts.
The court was also told Sean Iran was on the sex offenders register for a sexual assault on a 15-year old girl.