South Downs National Park marks first anniversary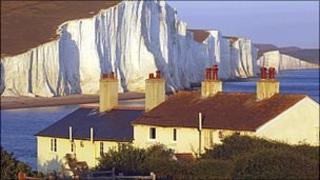 The first anniversary of the South Downs National Park is being celebrated in Sussex amid calls for farming interests to be recognised in the area.
The park was approved on 31 March 2009 and was officially designated a year later. The park authority becomes fully operational on Friday.
But the National Farmers Union (NFU) said access and planning were major concerns for commercial farmers.
The authority said it was working closely with landowners.
Chairwoman of the park authority, Margaret Paren, said: "Given the unique character of the national park, over the past year we have been developing our approach for the future in close consultation with local communities, environmental groups and landowners."
She said the authority would be working hard to fulfil its "statutory purposes and socio-economic duties".
Birthday cake
NFU regional director William White said the park was unique among the rest of the UK's national parks because 85% of the area was farmed.
He said the NFU had been impressed by progress over the past year but issues about access and planning remained major concerns for members.
The new park authority expects to deal with about 4,000 planning applications a year after it becomes operational.
Fifteen local authorities will carry out many of the day-to-day planning services, but the park authority will deal with the more potentially significant applications and retain overall control.
Environment Minister Richard Benyon was meeting countryside groups and volunteers to cut a birthday cake in Lewes on Thursday.
The South Downs National Park stretches from Winchester in Hampshire to Eastbourne in East Sussex, and includes woodland, heathland, downlands and the white chalk cliffs at Beachy Head.