Failings found at Ford open prison ahead of riot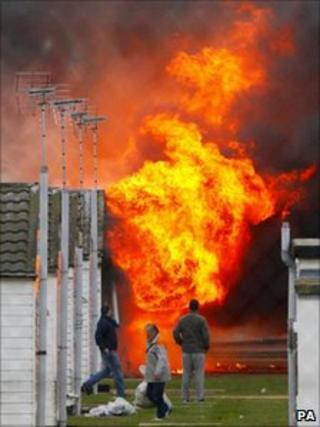 Inspectors who visited an open prison a month before rioting broke out had "serious concerns" about the way it was being run, a report has revealed.
The riot involved about 40 inmates at Ford Prison, near Arundel, West Sussex, on New Year's Day. Several buildings were burnt to the ground.
Inspectors found more than 40% of inmates said drugs were easy to obtain.
Alcohol-smuggling, highlighted after previous visits, remained a problem and breath testing was "unsophisticated".
Staff shortages meant random drug tests could not be carried out quickly enough, inspectors said.
The report also found the prison was failing to prepare inmates for life outside.
Chief Inspector of Prisons Nick Hardwick said: "This inspection report does not explain - and certainly does not excuse - the disturbance.
"It does, however, describe conditions in the prison one month before the disturbance took place."
The riot, which lasted about 22 hours, started after prison staff tried to breathalyse some inmates, the Prison Officers' Association said at the time.
'Lack of urgency'
Inspectors said that, despite their concerns, the jail was safe for most prisoners and care for those at risk of suicide or self-harm was good.
Their report also found security had been improved, with fewer inmates absconding, and healthcare was also good.
Mr Hardwick added: "Open prisons have a crucial role in preparing low-risk, particularly long-term, prisoners for life back in the community.
"Most open prisons perform this role effectively.
"Unfortunately, this was not the case at Ford. Instead, poor relationships were undermining the development of a strong, positive culture essential to responsible living and dynamic security.
"Ford's resettlement and offender management are critical weaknesses for a prison that should be focused squarely on preparing prisoners for a return to the community.
"There have been some recent improvements but this time there must be sustained progress supported at every level."
Director of the Prison Reform Trust Juliet Lyon said: "Today's report on Ford reveals a worrying lack of urgency to deal with problems of poor resettlement, and the influx of drugs and alcohol, which were raised by the inspectorate in 2009."
Michael Spurr, chief executive officer of the National Offender Management Service, said: "We have put additional support in place to strengthen the management of the prison and we will use the recommendations in the report to improve the performance of the establishment.
"I am pleased the good work done by the prison, on safety, suicide and self-harm, healthcare and improved security with fewer absconds, has been acknowledged."
HMP Ford accepts category D offenders who have under two years left to serve.