Seven Sisters were saved by Kipling and 'people power'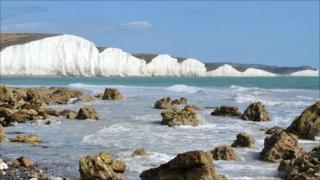 It was a month-long fight with the future of a national landmark at stake.
In 1926 a mysterious group of property developers wanted to build a new town above the Seven Sisters cliffs, which overlook the English Channel.
Opposing them was a group of early environmentalists, including poet Rudyard Kipling, the mother of a dead WWI soldier, a famous pilot and a walking group.
The cliffs, which had stood for centuries through various conflicts, had a new enemy - this time from within.
It emerged a secret syndicate had purchased the land and planned to construct a new town on top of the Seven Sisters, similar to nearby Peacehaven which had been built 10 years before.
Opponents were only given a month to raise £17,0000 - the equivalent of £509,000 today - to buy out the developers and halt construction.
It was an almost unassailable target, but the campaign led by the Society of Sussex Downsmen, a walking group formed just three years before, proved to be successful and the land above the cliffs was saved for generations to come.
'Members devastated'
Since Friday, the area has been managed by the South Downs National Park Authority.
The South Downs is the UK's newest national park and covers 627 square miles across Sussex and Hampshire.
The Seven Sisters are located on the east of the park and according to Jacquetta Fewster, director of the South Downs Society - formerly known as the Sussex Downsmen - the fight caught the public's imagination.
"It was a time when there was a house shortage and proposals were to build on this cliff - our members were devastated," she said.
After an initial outcry, opponents were given 28 days to raise the money and the public flocked to the cause, donating money and objects.
According to a newspaper article at the time, a mother gave a treasured gold sovereign to the cause, which belonged to her son who was killed during World War I.
'Sea and Sussex'
Aeroplane pioneer Alan Cobham, who gained fame that year by flying from England to Australia and back, pitched in and landed his Moth biplane on the slope above the cliffs to help raise money.
Lifeboatmen from Eastbourne formed a guard of honour when the plane landed and thousands of people came to watch.
He then proceeded to auction a copy of the book, "Sea and Sussex", by the campaign's most famous supporter, Rudyard Kipling, which had been donated to the cause.
It was through donations like this, and a couple of rich benefactors, that the total was reached and the cliffs were saved.
Ms Fewster added: "It was down to a few passionate individuals that organised the whole thing.
"It was one of the early forms of people power to protect the countryside.
"There was no proper planning legislation in those days and people were finding that well-loved areas were being built on."