Deer on roads in East Sussex prompt warning to drivers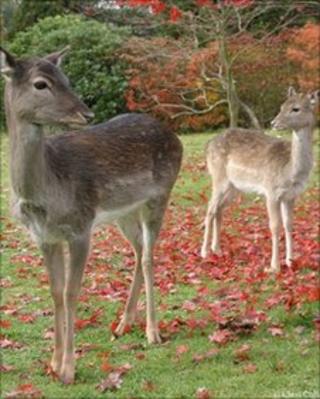 Drivers in East Sussex have been warned to take extra care to avoid hitting roaming deer, particularly in the Ashdown Forest.
East Sussex County Council said an increasing deer population in recent years had led to more accidents.
More than 450 collisions took place in the county last year, with more than half of them in the Ashdown Forest.
The council said animals were more likely to cross roads in spring because they needed to look further for food.
Another peak time for deer movements is in the autumn during the rutting season.
East Sussex Wildlife Rescue and Ambulance Services (WRAS) said most deer did not survive being hit by cars and had to be shot because their spines were damaged.
Spokesman Trevor Weeks said that volunteers had been in tears when an animal ambulance had attended one of the latest incidents, on Saturday night.
A deer hit by one car on the A22 between Whitesmith and East Hoathly, south of the Ashdown Forest, was run over again by a second vehicle.
"It was very distressing to see this and when we examined the deer, the only injuries we could find were where the second car had driven over the deer, otherwise this may have been [saved]," said Mr Weeks.
"Many of the deer and thousands of other wildlife which are hit on our roads could be avoided if we reduce down our speed at night in rural areas, especially those areas where it is known that deer cross."
Councillor Matthew Lock said the county council wanted to keep animal suffering to a minimum and make sure drivers, walkers and cyclists were safe.
"This time of year deer are much more likely to be found crossing the road and so drivers really do need to take extra care, especially around warning signs," he said.