Campaigners celebrate status upgrade for Saltdean Lido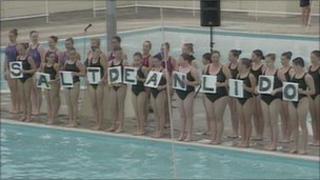 Campaigners have said they hope to secure funding to restore a seafront landmark in East Sussex after its listed building status was upgraded.
The Department for Culture, Media and Sport has agreed to raise the status of Saltdean Lido from Grade II to Grade II*.
The leaseholder of the lido, which was built in the 1930s, wants to build flats on the site.
But campaigners want to restore the site to its former glory.
Council leader Mary Mears said residents were "passionate about the local landmark".
She said: "The lido is one of only 27 surviving in England and one of only three beside the sea.
"It means grant assistance that can be put towards restoration costs may become available."
Residents have also enlisted the help of Sir Terence Conran's architecture firm to develop ideas for the Art Deco lido.
Rebecca Crook, who chairs the Save Saltdean Lido Campaign, said: "We couldn't be happier that this iconic building situated in the centre of our community now has the architectural and heritage recognition that it deserves."