Sussex farmers in call for badger cull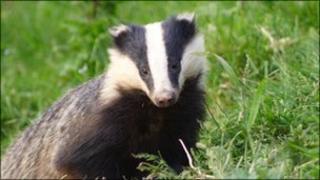 Sussex farmers have called for a badger cull after eight cases of bovine tuberculosis (TB) in cattle last year.
The National Farmers Union (NFU) said each outbreak cost farmers thousands of pounds and the national herd was being "devastated".
Wildlife groups have objected to any badger cull and have argued the move will not affect levels of bovine TB.
Defra issued a statement which said an eradication programme would be announced as soon as possible.
'Reservoir of infection'
The statement said: "Bovine TB is a devastating disease and tackling it is complex, so we need to make sure we get it right.
"We will be announcing a comprehensive and balanced TB Eradication Programme for England as soon as possible."
James Mulleneux, from the NFU, said: "Despite a huge amount of cattle controls in terms of testing and culling, we still have this reservoir of infection within badgers."
He said the average cost to the individual farmer was £30,000 per confirmed outbreak, which was "huge" for any farming business.
He also said the disease cost the taxpayer £90m a year.
'Larger herds'
He added: "It's not just the financial cost, it's actually the numbers of animals that are being taken out of the national herd.
"In 2008, we lost 40,000 head of cattle. In 2009-10, an average of 30,000. That's not sustainable."
But Colin Booty, a senior wildlife scientist from the RSPCA, said: "Defra's own estimates suggest that even if culling could be undertaken according to a strict set of criteria, the best that one might achieve would be a 16% reduction in disease, not an eradication of the disease."
And Jack Reedy, from the Badger Trust, said there were more cattle than badgers and cattle were being kept in closed conditions and larger herds, which was "a perfect prescription for passing round highly infectious diseases".
He said: "In most of the past decade, there was a randomised badger culling trial that cost £50m.
"The main conclusion of that was that killing badgers could make no meaningful contribution and cattle measures were sufficient to do the job."