Novartis job cuts plan in Horsham 'shocking'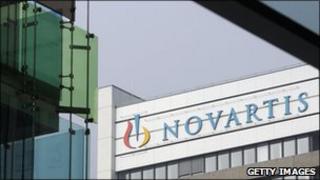 Politicians in Horsham have reacted with shock and disappointment at the decision of a major employer in the town to cut hundreds of jobs.
Pharmaceuticals giant Novartis announced on Wednesday it planned to reduce the total workforce of 950 at its Horsham site by 550.
Councillor Robert Nye, the leader of Tory-run Horsham District Council, said it was "shocking and very sad news".
He said he wanted to set up a public meeting for worried Novartis employees.
"No-one wants to see job losses of this magnitude," he said.
"We had no idea this was coming. All these people live, work and spend their wages in the town and contribute to society as a whole so it's bound to have a negative impact."
Further blow
Of the 950 employees on the Horsham campus approximately 330 are dedicated to respiratory research.
Dr David Holmes, the leader of Horsham Liberal Democrats, said: "It's devastating and it's a massive surprise.
"Novartis is one of the two largest employers in the town and we really don't want the town just to become a commuter town."
The move comes as a further blow to the UK's pharmaceutical research and development (R&D) industry.
In February, Pfizer said it would close its research and development facility at Sandwich in Kent, which employs 2,400 people.
The Novartis and Pfizer plans will be implemented over the next two years.