Lottery fund visit to Hastings Pier 'a success'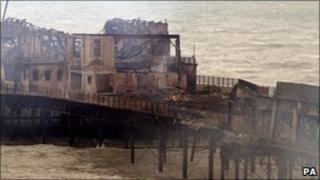 A visit by lottery officials to the burnt-out Hastings Pier went very well, according to campaigners bidding for money to rebuild the structure.
The Hastings Pier and White Rock Trust said members of the Heritage Lottery Fund committee were "very impressed" with their pitch on Wednesday.
The trust has bid for £8.7m to rebuild the structure, which was destroyed by fire in October, as a "People's Pier".
Earlier this year, a firm of architects was chosen for the potential rebuild.
Ray Chapman, the chairman of the trust, said: "We had a very fantastic day with some of the lottery trustees from the Heritage Lottery Fund. Very slick, was their response.
"Absolutely superb and a good day with the weather as well. They were very impressed."
'Risk of collapse'
He added: "We're the only bid in the South East. April the 19th is the day that they'll be making the decision but that is for the national committee.
"We've got to put a case together and help the South East committee put the national bid together to make sure that Hastings is absolutely crucial this year.
"We can't really afford too much longer with the pier being at risk of collapse."
The blaze, in the early hours of 5 October, took four days to put out and destroyed 95% of the upper part of the East Sussex pier.
Last month two men, both aged 19 and from St Leonards, who were arrested on suspicion of arson had their bail extended until 4 April.