Eastbourne and Hastings hospitals' 'patients at risk'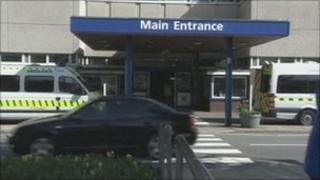 Two hospitals in East Sussex have been told to improve after an inspection found patients were being put at risk because there were too few staff.
The Care Quality Commission (CQC) criticised services in A&E, maternity and on wards at Eastbourne District General and the Conquest in Hastings.
The CQC said East Sussex Hospitals NHS Trust had been given until 31 March to address the issues.
The trust said it was working to give the CQC evidence of improvement.
Detailed concerns were raised by the CQC following a planned visit to the trust in mid-February.
Inspectors found there were "insufficient numbers of staff to support proper patient care, putting patients at risk".
They also found that care plans and risk assessments were sometimes not completed or were inaccurate.
The two hospitals faced uncertainty over the future of both A&E and maternity services between 2006 and 2009.
Campaigners fought and won a battle to keep full maternity services at both sites. Health bosses later rejected proposals to reduce A&E provision sparked by a shortage of doctors.
Now Eastbourne's Liberal Democrat MP Steven Lloyd fears one of the maternity sites might again be under threat while more doctors are recruited.
"I have spoken with Darren Grayson, chief executive of the trust, and he assures me the board have been making strenuous efforts to recruit the right middle-range doctors, but, thus far, have not succeeded," said Mr Lloyd.
"This does not take away from the fact that the CQC report raises medical concerns, which worries me and I know will worry my constituents."
Margaret Williams, a leading campaigner to keep full maternity services in Hastings and Eastbourne, said: "Obviously, patient safety must come first, but the trust has had years and years to recruit staff.
"During our campaign we were always told they couldn't recruit consultants, now it is middle-grade doctors, so it's an excuse.
"They must recruit and must recruit quickly."
The trust said it was taking the CQC's concerns very seriously.
"We would like to assure patients and the public that patient safety is our highest concern at all times," it said.
"We are already working with our doctors, nurses and other clinical staff to ensure the specific concerns raised have been addressed."
The CQC said a full report of its inspection would be available to the public shortly but it was unable to comment further at this stage.