Sussex Police Authority approves station cuts plan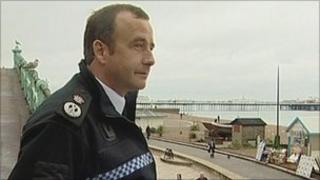 Plans to close front counters at some police stations in Sussex and reduce opening hours have been approved.
Sussex Police Authority said it needed to become more efficient as it seeks to save £52m by 2015.
The proposals will see the 24-hour Brighton police station close between midnight and 0800 GMT.
"The decision we have taken today is about looking carefully at where we target our resources," said Carole Shaves, who chairs the committee.
"This is not about closing police stations but about genuinely identifying more efficient ways of working."
Hastings, Eastbourne and Crawley police stations, which are open until midnight, would close at 2000 GMT.
A further nine stations across East and West Sussex will face shortened opening hours or the closure of front counters.
A Sussex Police spokeswoman said the changes would not come into effect until a consultation with the public had been carried out.