Armed police hunt trio after officer threatened in Hove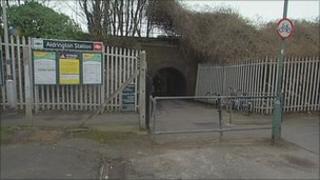 Armed police spent hours searching for three men in Hove after an officer was threatened with a gun.
The officer was flagged down by a motorist who said he had seen a man with a machete in a subway at Aldrington railway station.
When he went to investigate, the officer was threatened with a gun, a Sussex Police spokesman said.
Armed police searched the area and a helicopter was scrambled, but they failed to locate the trio.
Two nearby secondary schools - Blatchington Mill and Hove Park - were told to keep pupils indoors during the search.
'No gun' claim
The chase began at about 1145 GMT, police said.
The motorist flagged down the officer, who was in a patrol car, at the junction of Sackville Road and Coleridge Street.
He said he had seen a man holding a machete in the subway of Aldrington railway station.
The police officer radioed colleagues and went into the subway where he saw three men, one of whom was holding a machete.
Another man pulled out a handgun and threatened him.
After the three fled, the officer chased them through the subway into Old Shoreham Road from where they could have taken three routes. It is not known if they escaped by car.
All three men were described as black, with two wearing dark hooded tops and tracksuit bottoms.
Sussex Police had initially said the men were carrying "an offensive weapon" which was not a firearm, but later revealed the officer had been threatened with a gun.
Meanwhile, firearms officers and local police searched for the men.
Pupils at Blatchington Mill and Hove Park were kept inside the buildings with police officers present, and parents were told not to go to the schools.
Later, Ch Supt Graham Bartlett said: "Due to the lapse in time and the high police presence in the area we believe the initial threat no longer remains.
"Residents and school pupils are advised that they may continue with their day as normal."
He said the search for clues was continuing and officers would remain in the area.
Janet Felkin, head teacher at Blatchington Mill, a secondary school and sixth form college, posted a statement on the school's website during the afternoon.
She said: "An incident is being followed up by the police. They are searching for three men who are in the Hove area.
"As a precaution they have asked that we keep our students in the building.
"Your children are safe and are behaving exceptionally well, considering they are missing their fresh air break. I hope you can make it up to them when they tell you all about it later."
At 1500 GMT, Ms Felkin posted a statement which said the school had returned to normal and students would be leaving at the usual time.