Prize-winning Horsham schoolboys launch books business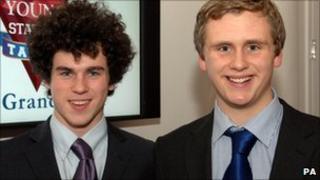 Two schoolboys from West Sussex are using a £50,000 competition prize to launch a start-up business recycling used textbooks among students online.
Thomas Williams and James Seear, both 17 and from Horsham, won the Young Start-Up Talent award for people in the Gatwick Diamond business area.
Mr Williams, from Christ's Hospital School and Mr Seear from Collyers College, test ran Recyclabook locally.
"We've proved the concept works and is profitable," said Mr Williams.
Target market
Students forward used text books to the company which buys them, then sells them to next year's A-Level students.
"During a trial month late last year we received some 300 books and paid students a total of £500 which was covered by selling just 17% of our stock," said Mr Williams.
"Being students ourselves we feel that we are in a unique position to comprehensively grasp the target market."
The pair beat thousands of other 16 to 21-year-olds to make it to the final five in the Young Start-Up Talent project and pitched their idea in a Dragons' Den-style presentation.
They said they were confident their fledgling company would not interfere with their schoolwork as demand tended to be concentrated in school holiday periods, particularly at the end of the summer term.