George IV coronation robe on show at Brighton Pavilion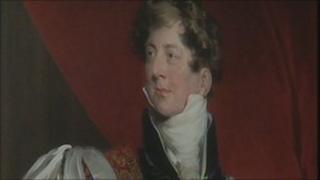 The coronation robe worn by King George IV is going on show to the public for the first time in 30 years as part of a Regency fashion exhibition in Brighton.
The 16ft-long (4.9m) silk velvet and ermine robe is the centrepiece of the Dress for Excess exhibition at the Royal Pavilion, opening on Saturday.
It marks the 200th anniversary of the Regency Act, which made George Prince Regent when his father was deemed mad.
George, who built the Royal Pavilion as a pleasure palace, became king in 1820.
A new exhibition space at the palace, the Prince Regent Gallery, is dedicated to George IV.
It includes other items of his clothing, including a printed banyan, an early form of dressing gown, and huge breeches worn towards the end of his life as he grew fatter.
The exhibition, which runs for a year, also features other clothing including a military uniform worn at the Battle of Waterloo.
George was born on 17 August 1762, the eldest son of George III and Queen Charlotte.
His extravagant lifestyle exasperated his father, whose deteriorating health was depicted in the 1994 film The Madness of King George.