Brighton Pride 'accepts need for change'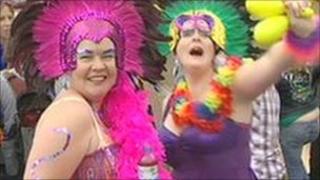 Organisers of Brighton's Pride festival have "accepted the need for change" following problems at last year's event, a local authority has said.
Brighton and Hove City Council held talks with organisers of the annual event on Wednesday evening.
Last year, the council said Pride needed "tidying up" and concluded it needed to change its format.
Overcrowding and the amount of rubbish and broken glass left in Preston Park were said to have been a key issue.
'Good intent'
Sussex Police said if the situation was allowed to continue, it could lead to the withdrawal of the event's licence.
In a statement, the council said: "A very positive meeting was held to explore the immediate future of Pride.
"As a result of this, all parties were happy to accept the need for the event to change and develop, responding to opinion and exploring new ideas
"All parties left the meeting with good intent and wanting to see a successful Pride for the city."
The festival began in the city as a gay protest in the early 1970s.
Last summer's celebration was the biggest in its 18-year history, with more than 160,000 people taking part in the free event.