Council says Burgess Hill treehouse can stay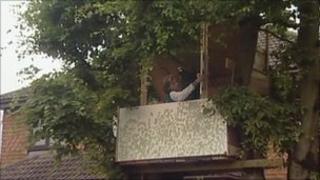 A family in West Sussex who were told they had to take down their treehouse because they had not got planning permission have been told it can stay.
Cameron Rykiel, 14, and his sister Justine, 11, spent a month building the structure in the front garden of their house in Oakwood Road, Burgess Hill.
But just before it was finished last October Mid Sussex District Council said it would have to be torn down.
The family has now made changes so that it does not overlook other gardens.
The council said it had a duty to residents to ensure planning regulations were observed.