Demolition starts on vacant Burgess Hill office block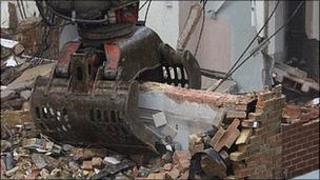 Demolition of an office building that has stood empty for three years in a West Sussex town has begun.
Mid Sussex District Council said work would be carried out over eight weeks to minimise noise and dust and enable recycling of 95% of the building.
The local authority said that by removing the Brow building, the land could be put to constructive use.
It said it expected a planning application to be submitted for the site in the near future.
Regeneration boost
The council said all brick and concrete from the demolition could be saved and reused, scrap metal could be recycled, and all clean timber could be used for wood chip or waste energy.
Dust at the site is being controlled with water nozzles which have been fitted on the demolition rigs and will be used to saturate the building.
Deputy council leader Gary Marsh said: "It's great to see this activity leading to regeneration.
"Burgess Hill Town Council is supportive of the move to demolish this area and it will lead to huge improvements for the town."