Harry voted into Downing Street in Cats Protection poll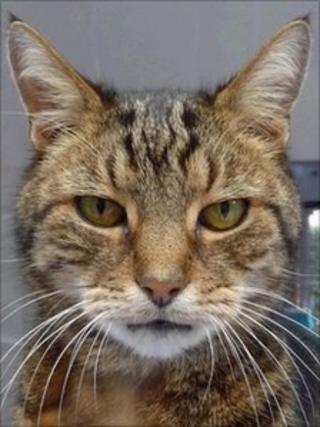 A homeless cat called Harry has won a national poll and could be the next feline to move into Downing Street, according to a cat charity.
Cats Protection invited the prime minister to give a cat a home after a rat was seen outside No 10 on the news.
The charity ran a Facebook poll and will forward details of Harry, who was "a clear winner", to David Cameron.
Harry is currently living at the charity's national adoption centre in Chelwood Gate, West Sussex.
On Monday, a spokesman for the Prime Minister said there would not be a replacement for Humphrey - the cat who lived at Downing Street during the most of the 1990s.
But after media coverage on Tuesday, the spokesman said there was a "pro-cat faction" in the building.
Karen Thompson, deputy manager of the adoption centre, said Harry, a 10-year-old tabby cat, would be a "perfect candidate".
'Big hit with guests'
She said: "He's a friendly and affectionate character who used to live in a care home where he would cuddle up to the residents.
"As a result, he'd be well used to the comings and goings at Downing Street and would be a big hit with the Cabinet and other guests. And you could say he's already done his bit for the Big Society.
"We're delighted that he's won Cats Protection's election and we hope he gets the call from No 10."
The last Downing Street cat, Humphrey, lived there for eight years until Tony Blair gained power in 1997.
He was followed in 2007 by Sybil, who belonged to the then chancellor Alistair Darling, but Sybil did not settle and was later returned to Scotland.