Epilepsy drug battle to end after legal aid withdrawn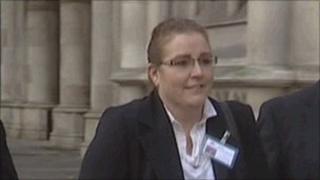 A Sussex woman who claims her four children had birth defects because of the epilepsy drug Epilim is to see her battle for compensation end.
Janet Stockley-Pollard was among 80 families claiming damages against drugs manufacturer Sanofi-Aventis, which has always denied wrongdoing.
The group lost their legal aid last year and lawyers will formally discontinue action on Friday.
Mrs Stockley-Pollard said their fight to raise awareness would continue.
The legal aid was withdrawn after assessments ruled the group's prospects of winning had fallen and a judicial review failed.
Lawyer David Body said: "We will be advising the court that our case against the manufacturers of Epilim must be discontinued, not because we have lost our fight in court but because continuing without legal aid funding would place our clients at too great a financial risk."
He added: "Our clients are understandably devastated that their case will never be heard in court after six years of preparation for trial."
Mrs Stockley-Pollard, 42, was diagnosed with epilepsy at the age of 14 and has been taking sodium valproate, or Epilim, for 28 years.
'No support'
She married at the age of 18 and had her first child, Dale, at the age of 19. She went on to have three more children before she found out about the alleged effects of the drug.
Then five years ago, she read a newspaper article about a condition called Fetal Anti Convulsant Syndrome that had been linked to the drug, and contacted the other families involved in the legal action.
She believes Dale, 22, Jade, 20, Kyle, 12, and Cameron, 11, all have conditions caused by Epilim.
"It was an enormous relief," she said. "We were having so many problems. We didn't know what was wrong. We weren't getting any support. Then we knew what we were dealing with."
Lawyers worked on the case for years but then legal aid was withdrawn last November.
Mrs Stockley-Pollard said: "It was a blow. As parents, you are wondering constantly about what is going to happen when they are adults when you are no longer able to care for them.
"They have medical problems. They need support in day-to-day life. Every day there is a crisis of some kind. Any small thing is a major one to them. They do things that aren't safe and they don't think about it.
"We were hoping by getting compensation [we] can put things in place for their future."
'Constant pain'
Mrs Stockley-Pollard said: "Dale is the least affected. He does have difficulties. One of his fingers is not formed correctly.
"Jade has concentration problems, problems with organisation, needs support in education, has been diagnosed with Crohn's Disease and hypermobility, and is in constant pain."
When Kyle was born, he went straight into intensive care with a collapsed lung, a floppy larynx, sleep apnoea and clicking hips, she said.
He went on to have bowel problems and difficulty with social interaction, getting upset, lashing out and screaming, she added.
As a baby, Cameron had noisy breathing and suspected sleep apnoea.
The two youngest were identified as having special needs in nursery school and her three sons had speech and language difficulties. Jade has mobility problems and is registered as disabled.
Mrs Stockley-Pollard added: "It might be end of the court case but we, as parents and a support group, are going to continue fighting."
'Appropriate warnings'
Campaigners have been meeting MPs and are now working to achieve recognition of the condition and gain support for the families.
According to Mrs Stockley-Pollard, more than 260 children were involved in the failed litigation.
Campaigners believe 350,000 children could be affected in the UK.
Sanofi-Aventis has denied claims by the families that in the 1990s there were inadequate warnings about possible harm that the drug could cause.
The company said it had always provided appropriate precautions and warnings on the risks associated with possible side-effects of the medicine.
A spokesman for the Legal Services Commission (LSC) said: "Following advice from counsel, the Legal Services Commission has withdrawn legal aid funding for the multi-party action claim against the makers of the drug Epilim.
"Before making the decision, LSC had to await the exchange of evidence and the provision of comprehensive opinions from counsel - this process was only completed by the solicitors in late October.
"The claimants then exercised their right to appeal to a panel of lawyers who are independent of the LSC. This panel upheld the decision to withdraw funding.
"We have great sympathy with those who claim to have had adverse effects in connection with this medication, but our funding decisions must always be based on solid legal grounds."