Pieces of Brighton's West Pier up for sale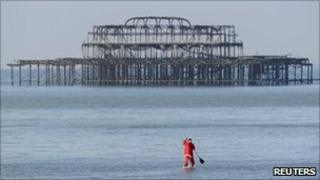 Historical items salvaged from Brighton's West Pier are being put up for sale.
The West Pier Trust is selling pieces that were collected and put into storage after the structure was ravaged by storms and fire.
The trust had hoped to restore the pier but alternative plans were put in place when fire destroyed the pier in 2003.
Planning permission has been granted to build a 150-metre (492ft) viewing tower near the site, known as the i360.
The trust said construction of the tower would start when full funding was in place.
It hopes the i360 will open in the summer of 2012 ahead of the London Olympics.
Destroyed by fire
Rachel Clark, the chief executive of West Pier Trust, said pieces of greatest historical value would be kept for a proposed heritage centre on the site.
She said: "We still have an awful lot of material that is original decorative cast-iron work from the pier.
"Rather than dispose of it in a hurry, we thought 'well, why not offer it to the public?'"
Prices range from about £10 for an artefact for the mantelpiece to about £250 for a cast-iron column.
The West Pier opened in 1866 and became a thriving centre of seaside entertainment during the 1920s.
It fell into disrepair in the 1960s and was closed to the public in 1975. Hopes of restoration were dashed when the pier was destroyed by fire in 2003