Gatwick managers to explain reasons for snow closures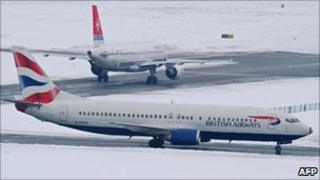 Managers at Gatwick Airport will explain why it was forced to close during December's freezing weather at a meeting of its consultative committee.
Thousands of travellers were stranded at the West Sussex airport when it shut for two days because of heavy snowfall.
Snow and ice were blamed for passenger numbers at the airport dipping by nearly 11% in December.
Members of the Gatwick Airport Consultative Committee will hear on Thursday how it coped with the snow.
It is also expected to demand better communication and information for passengers in the future.
The airport's owners have since agreed to spend an extra £8m on snow clearing vehicles, doubling its fleet to 97.