Hastings train travellers want food trolley back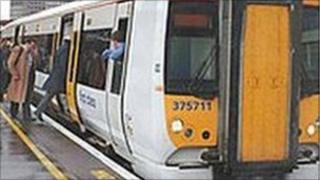 Campaigners in Hastings are calling on Southeastern Trains to restore catering trolleys on its services to London.
Leader of Hastings Borough Council Jeremy Birch said he was a frequent traveller and was disappointed at the "abrupt" withdrawal of the trolleys in December.
"To take away the catering trolleys on journeys that are planned to take 1hr 45m really is unacceptable," he said.
Southeastern said the service was no longer commercially viable.
Mr Birch said rail users from Hastings, in East Sussex, had already lost direct trains to Cannon Street in London and suffered well above average fare increases at the start of January.
"Whilst I may accept the days of the buffet car have now gone, this further reduction in the quality of the train journey is something I feel very strongly about," he said.
"I note that other trains operated by Southeastern continue to have an at-seat catering service, and I have to wonder just what it is the Southeastern management has against travellers using the Hastings line?"
Southeastern said the decision to withdraw the trolley service was taken with caterer Rail Gourmet.
But it said it was working closely with Hastings and Rye Conservative MP Amber Rudd to find an alternative.
A solution could come from the group of 17 caterers who lost their jobs when the service was withdrawn last month.
George Vorkas said he and his ex-colleagues had formed the Hastings Railways Trolley Co-operative and submitted a proposal to start their own service.
Southeastern said it would meet members of the co-operative for a formal discussion.