Budget cuts set out by East and West Sussex councils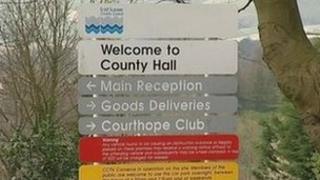 Two Sussex councils which have to cut nearly £180m from their budgets over the next four years have met to work out how savings can be found.
The cabinets of both East Sussex and West Sussex county councils met in Lewes and Chichester on Tuesday.
Both authorities are aiming to save about £37m in the next financial year.
Spending on children's services in East Sussex will be reduced by £20m. In West Sussex, £14m will be cut from adult social care.
West Sussex councillor Michael Brown, cabinet member for finance, said in total the county council needed to reduce spending by £79m by 2013.
'Protecting the vulnerable'
He said a substantial amount of savings would come from reducing bureaucracy by 30% next year and working more efficiently.
Mr Brown added: "This is a budget that does protect the most vulnerable. There will be investment in children's services and we are also committed to maintaining our road network and dealing with potholes."
East Sussex County Council has set out to save £100m over the next four years, including £8.4m savings in this financial year and £37m in the year starting in April 2011.
A statement issued by the authority said all departments would face cuts, but £20m would be cut from children's services because of changes to specific government grants.
The council also said staff numbers would be cut by the equivalent of 150 to 200 full-time posts in the next financial year.
It said it would do all it could to reduce the need for compulsory redundancies by offering voluntary redundancy and redeployment and not filling vacant posts.